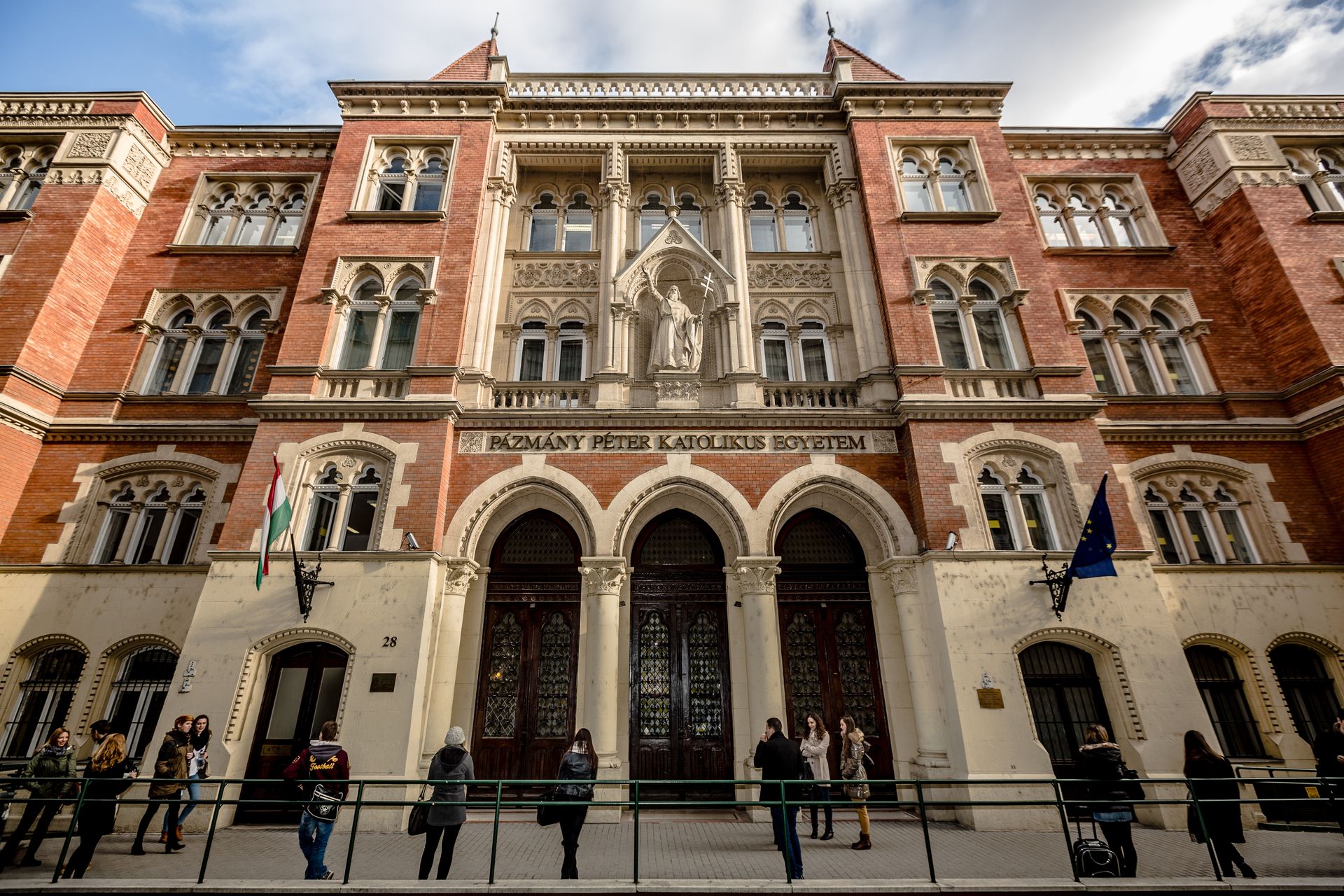 Pázmány Péter Catholic University
People-oriented, high quality education, classical knowledge, and innovation – that is what Pázmány Péter Catholic University offers its students. These have formed the cornerstone of Hungary's oldest continuously operating university ever since it was established in 1635 in the city of Trnava and ever since it was re-established in 1992. With its multi-faceted education system, the University serves both to convey the traditional knowledge and values necessary for the development of the human personality in its entirety, and to develop our information society and adapt it to human fulfilment.
Our teachers are known and respected experts in their fields. Due to the University's beneficial teacher to student ratio, we are always able to promote individual performance, enabling students to develop a direct, helping relationship with teachers. Our institution's good reputation bolsters a good opportunity for success on the job market.
We fundamentally strive to provide training that supports everyday life, but also support students in learning and recognizing the related theoretical knowledge and relationships. For decades, our range of disciplines has included the disciplines of theology, legal sciences, humanities, social sciences, information technology, and bionics. In addition to preserving our traditions, we also strive for continuous renewal. Our domestic and international cooperation, our internationally recognized research, and our participation in partner school networks offer serious possibilities in these fields, and our mobility programs are becoming increasingly popular.
The mentality of our Budapest-centric University is fundamentally determined by our Catholic ties and intrinsic human and social values. Our fundamental approach consists of respect for each other, building intergenerational professional and friendly communities (from secondary schools to alumni), camaraderie, and helping each other. Our social programs draw more and more students each year.
The offer of the Faculty of Humanities and Social Sciences encompasses the wide spectrum of social sciences – from psychology and teacher training through languages to political sciences. The Faculty of Law and Political Sciences introduces students to the fundamental norms of human coexistence, from Roman law to today's reality. The education provided by the Faculty of Information Technology and Bionics is referred to as the science of the third millennium. Information technology, life sciences, bionics, and engineering will all help us achieve a better quality of life. The Faculty of Theology offers students the perspective of realizing the totality of the human personality by growing in faith. All students are given the possibility of experiencing the Catholic faith at the University and participating in the related programs.
Knowledge is transferred in a people-centric environment, always taking into account the capabilities, skills, and needs of students. The University always bears in mind the importance of the high quality of science and education – even in an international comparison. We are convinced that these internal values are responsible for allowing the degrees that we issue to hold their value and for the favorable reception of our graduates on the labor market.
https://ppke.hu/en https://btk.ppke.hu/en https://itk.ppke.hu/en https://htk.ppke.hu
  Pázmány Péter Katolikus Egyetem
Emberközpontú minőségi oktatás, klasszikus tudás és innováció - ezt kínálja hallgatóinak a Pázmány Péter Katolikus Egyetem. Az intézmény 1635-ös nagyszombati alapítása, majd 1992-es újraalapítása, Magyarország legrégebb óta folyamatosan működő egyetemének sarokköveit jelentik. Sokrétű képzési rendszerével egyaránt szolgálja a teljes emberi személyiség kibontakoztatásához szükséges hagyományos ismeretek és értékek közvetítését, valamint az információs társadalom formálását, az emberi kiteljesedéshez történő igazítását.
Oktatóink saját szakterületükön ismert és elismert kutatók, szakemberek. Kedvező oktató-hallgató arányunk minden képzésünk esetében lehetővé teszi az egyéni teljesítmények támogatását, az oktatókkal való közvetlen, segítő kapcsolat kialakítását. Intézményünk hírneve jó esélyeket ad a munkaerőpiacon való helytálláshoz.
Alapvetően a hétköznapi életet elősegítő képzésre törekszünk, miközben fontos cél számunkra az ezzel összefüggő elméleti ismeretek és összefüggések hallgatói elsajátításának és felismerésének elősegítése is. Képzési palettánkon a hittudományi, a jogtudományi, a bölcsészet- és társadalomtudományi, valamint az információtechnológiai és a bionikai irány évtizedek óta jelen vannak. A tradíciók megőrzése mellett a folyamatos megújulásra törekszünk. Hazai és nemzetközi együttműködéseink, a külföldön is elismert kutatásaink, partneriskola-hálózatban való részvételünk komoly lehetőségeket kínálnak e téren, mobilitási programjaink egyre népszerűbbek.
Budapesti központú egyetemünk szellemiségét katolikus kötődésünk és az ebből fakadó emberi és közösségi értékek alapvetően meghatározzák. Az egymás iránti tisztelet, a generációkon átívelő szakmai és baráti közösségépítés – a középiskolától az öregdiákokig – ugyanúgy, mint az egymásra figyelés és az egymást segítés alapvető fontosságúak a számunkra. Közösségi programjaink évről-évre több hallgatót vonzanak.
A Bölcsészet- és Társadalomtudományi Kar kínálata – a pszichológiától és a pedagógusképzéstől a különböző nyelveken át a politikatudományokig – a társadalmi ismeretek széles körét öleli fel. A Jog- és Államtudományi Kar a római jog világától kezdve napjaink valóságáig az emberi együttélés különféle formáinak alapvető normáit tárja a hallgatók elé. Az Információs Technológiai és Bionikai karon folyó oktatást a harmadik évezred tudományának nevezik. Az informatika, az élettudományok, a bionika és a mérnöki ismeretek együttesen segítik a mind magasabb életminőség elérését. A Hittudományi Karon a hitben való növekedés által a teljes emberi személyiség kiteljesedésének perspektíváját nyújtják. A katolikus hit egyetemen belüli megélésének lehetősége, az ezzel kapcsolatos programokon való részvétel minden hallgatónk számára nyitott.
A tudás átadása emberközeli légkörben, a hallgatók adottságaira, képességeire és igényeire tekintettel folyik. A magas tudományos és oktatási színvonalat – nemzetközi mércével mérve is – egyetemünk mindig szem előtt tartja. Meggyőződésünk, hogy az intézmény által kiadott diplomák értékállósága, valamint végzett hallgatóink kedvező munkaerőpiaci fogadtatása belső értékeink kedvező következményei.
"A Pázmány Péter Katolikus Egyetem weboldala" https://ppke.hu/
"Az Információs Technológiai és Bionikai Kar weboldala" https://itk.ppke.hu/
 "A Bölcsészet –és Társadalomtudományi Kar weboldala" https://btk.ppke.hu/
"A Hittudományi Kar Weboldala" https://htk.ppke.hu/
Downloads
Videos